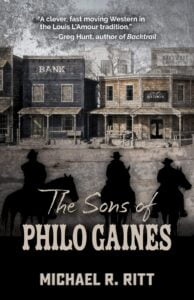 Every once in a while, you pick up a book and within a few pages, you realize you're in the hands of a master. Your worries disappear. You settle in, get comfortable and don't have to do a thing but immerse yourself in the world he's created, just read and enjoy. So it is with Michael Ritt's "The Sons of Philo Gaines". He has written a western tale to savor and I loved every single bite.
Legendary hero Philo Gaines has three sons and our story begins with Matthew, the eldest, arriving in Mustang Flats, Texas in 1873, hired to be the new schoolteacher and eager to leave behind tragic memories. Events move quickly, Matthew realizing the town is in the grip of Amos Tolliver, a man not simply ambitious but unscrupulous and Matthew suspects Tolliver is hiding an unsavory past. Matthew could use some help, but he's not sure how to contact his brothers, both on journeys on their own.
Luke Gaines is a loner, a man handy with a gun and is hired in Las Cruces to deliver a box to one Amos Tolliver. He runs into some trouble but arrives in Mustang Flats, surprised to discover his brother there. They send a telegram to Cheyenne to include their gambler brother David in their plans, especially when they realize who Tolliver really is. The sons of Philo Gaines have family business to attend to now.
Michael Ritt serves up a story of justice and revenge, a hearty stew brimming with action and characters you don't want to leave. The brothers are each of them a treat, but it's the side actors that are just as carefully drawn, especially the old mountain man Lloyd Barta who decides to spice life up by trying to rob stagecoaches, Ox, the slow-witted giant who defends saloon girls and of course, a clever surprise or two, something Michael Ritt thoroughly enjoys giving his readers. All in all, delicious. Bon appetit!
The Sons of Philo Gaines is a superb accomplishment and firmly establishes Michael Ritt as a novelist to be reckoned with. A sequel is in the works and I can't wait to read it. Make a reservation for that one, too. Find out more about him and his work at www.michaelrritt.com.
#thesonsofphilogaines #michaelrritt, #fivestarpublishing,#westernnovels, #kathleenmorrisauthor