Enhanced version previously published as "The Wind at Her Back"

"To do a great right, do a little wrong."
1876. An Irish orphan with a dark past, young Fiona Shanahan emigrates to America and becomes a lady's maid to a wealthy New York socialite, a safe haven where she reinvents herself. A lucky encounter lands her a spot on the Broadway stage, where she becomes a rising star until a violent confrontation forces her to flee west to Chicago. She meets theater magnate Julius DeMonte, who offers her sanctuary as part of the troupe aboard his showboat, Queen of Dreams, on its maiden voyage down the Mississippi. As they travel southward to New Orleans, Fiona discovers the reality of post-civil war America, very different from the gilded stages of New York. But Julius is far more than a simple theater producer, just as Fiona is far more than a naïve ingenue, and as she becomes entwined in Julius's intrigues, Fiona finds herself in greater danger than she's ever known before.
"Fiona Rising" - Enhanced version now available.
Previously published as "The Wind at Her Back"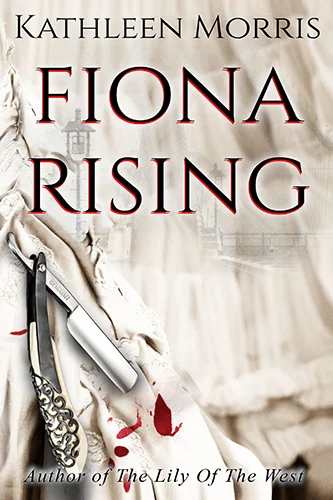 Milana Marsenich
Western Writers of America's ROUNDUP Magazine October 2021
I was utterly and hopelessly lost in this story and didn't want it to end
"In 1876, a young orphan, Fiona Shanahan, is sold into marriage to a violent man. When her child dies, she has nothing to lose and fights back, escaping his brutality and leaving him to burn. In fear and foreboding, she travels to America, where she stumbles into the theater and a career as an actress. Danger follows and threatens to interrupt her new freedom. In a harsh world, Fiona invites blessings into her life. She takes nothing for granted. She is kind and ruthless when survival is at stake. Kathleen Morris creates a remarkable world rich in danger, beauty, joy, grace and good old-fashioned luck. I was utterly and hopelessly lost in this story and didn't want it to end."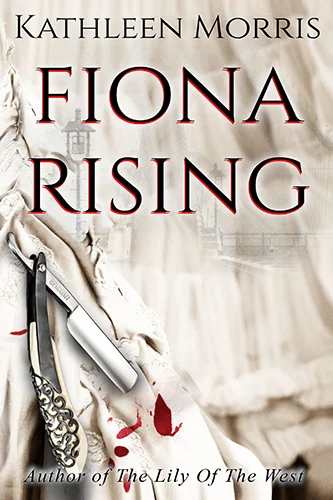 D. Swenson
Amazon Review
Kathleen Morris, award-winning author, and gifted storyteller has done it again with her latest novel, Fiona Rising. A superb novel, this talented author brings to life the hardships and reality of a young Irish immigrant, Fiona Shanahan, fleeing Ireland and the horrors of her past. Fiona has escaped a life in Ireland filled with poverty, abuse, and tragedy to find herself on a voyage across the vast Atlantic to America. While sailing, a fortuitous encounter with a wealthy New Yorker changes Fiona's life for the first time since being orphaned... [Continues]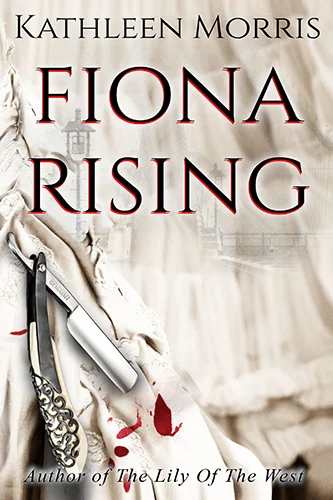 Sue Ready
Amazon Reviewer
Kathleen Morris has created a masterpiece with her newest novel "Fiona Rising." The reader is swept into the late 1800s beginning in New York where Fiona finds a safe haven. She reinvents herself becoming a lady's maid for a wealthy socialite. As her good fortunes increase Fiona becomes more ambitious taking on a different persona to suit her purpose. Fiona's circumstances change frequently throughout the story. Morris has created a strong gutsy, resourceful protagonist who learns early on knowledge is the ticket to her success. Books become her salvation... [Continues]

Item Weight : 

12.5 ounces

Paperback : 

276 pages

ISBN-10 : 

1645991172

ISBN-13 : 

978-1645991175

Dimensions : 

5.51 x 0.62 x 8.5 inches

Publisher : 

Encircle Publications, LLC (November 13, 2020)

Language: : 

English
AVAILABLE WHEREVER THE FINEST BOOKS ARE SOLD
ASIN ‏ : ‎ 

B0C3Z64DQH

Publisher ‏ : ‎ 

Dunraven Press (April 29, 2023)

Publication date ‏ : ‎ 

April 29, 2023

Language ‏ : ‎ 

English

File size ‏ : ‎ 

1248 KB

Simultaneous device usage ‏ : ‎ 

Unlimited

Text-to-Speech ‏ : ‎ 

Enabled

Screen Reader ‏ : ‎ 

Supported

Enhanced typesetting ‏ : ‎ 

Enabled

X-Ray ‏ : ‎ 

Not Enabled

Word Wise ‏ : ‎ 

Enabled

Sticky notes ‏ : ‎ 

On Kindle Scribe

Print length ‏ : ‎ 

317 pages