Come with me now and meet Miss Chastity James: She's the doted-upon daughter and future heiress to Harrowhill Horse Farms north of Boston. She's also beautiful, headstrong and eager for a challenge, so she takes the job as schoolteacher in 1878 Dodge City, determined to educate the children of the frontier to the best of her ability. Things don't go well, from her jealous landlady to Chastity's propensity to speak her mind and she gains a reputation that some find unseemly. After a violent confrontation with an unwanted suitor, Chastity finds herself under arrest for murder and the trial's speedy outcome seems a foregone conclusion. She escapes with a little help from her friends, carrying a stolen gun and riding a stolen horse into the icy teeth of a Kansas blizzard, pursued by Deputy Wyatt Earp.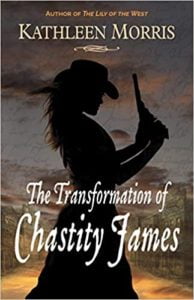 Her real journey is just beginning, as is her own education in how to survive. Halfway across Kansas, Chastity rescues a wounded outlaw and they throw in together, meeting up with Professor Julius DeMonte's Traveling Medicine Show. Eccentric Professor DeMonte provides entertainment of all kinds, taking them in, giving them disguises and even promises to help them get to Boston. Just how far can Chastity trust her newfound companions? Perhaps no further than she can the relentless Deputy Earp.
I loved writing this book, the characters I created and the era I researched to give this story as much authenticity as I could. I hope my readers will love it, too. The Transformation of Chastity James will be published by Five Star/Cengage in September 2020, and is available for pre-order now on Amazon and other outlets.
#thewesternlives #thetransformationofchastityjames #kathleenmorrisauthor #Fivestar/cengage #westernhistoricalfiction #historicalfiction #dodgecity #boothillschool