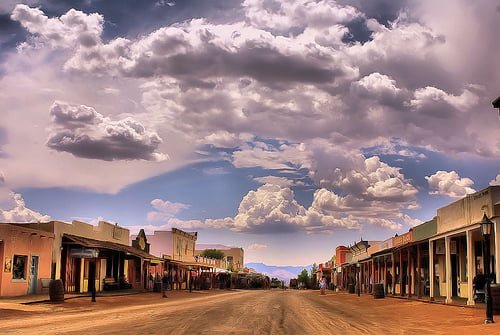 My novel The Lily of the West, will be published by Five Star this month. I'm very grateful for their support and to everyone who has visited my author Facebook page and my website and expressed their thoughts and good wishes. A novel about a real person shouldn't be confused with a biography. My novel about Kate Haroney is based on her history, but it is, in the end, fiction, composed from facts, letters, dates, quotes, the history of where she was and who with, but with large gaps in between that I filled in, as is the prerogative of a fiction writer. During my research, I found much false and sometimes deliberately fraudulent information about her, passed off as truth and historical fact, for spite or profit. Even the pictures that exist of her are highly suspect. Sifting through it all, and discarding much of it, was a time-consuming but fruitful chore. Here's how I came to write this book:
A while back, I came across Kate Haroney's grave in Prescott, Arizona. Not long after, I was in Tombstone, Arizona and was surprised the only notice of her was a restaurant. A good friend offered me opportunities to spend time writing and researching more about Kate, staying at her cattle ranch in southeastern Arizona. I did so, visiting Tombstone, Globe, Bisbee and Dos Cabezos because I had become obsessed with finding out the truth about this woman, so maligned in numerous books, movies and so-called historical accounts of her, usually as a minor character or footnote to the more famous Earps and Doc Holliday. Maybe it was because our names were the same, or that she was born the day before me, or that Doc died on my birthday, strange coincidences that I didn't know at first. Somehow, Kate called to me, and instinctively I knew she didn't deserve the place that history had relegated to her.
I wanted to tell her story in a way she would approve of. Sometimes I felt like she was standing over my shoulder as I sat at my desk puzzling over the gaps in her history, helping me to get it right…telling me to have a glass of whiskey, it always helped her to think more clearly and it might help me, too. Mostly I ignored her advice on that score but wandering around the same ground that she did, I felt her there, too, always a distinct voice from the past, urging me on. Much of Kate's life between St. Louis and Fort Griffin is unknown, except for a sojourn in Dodge City, where it would have been nearly impossible for her to have not known Wyatt Earp. After meeting Doc Holliday, because of his own notoriety, the trail was much easier to follow, her road defined by her love for him and his for her.
I hope everyone who reads The Lily of the West will come to know Kate, Doc and their companions with a fresh eye, and that you'll be entertained and informed. This is all a writer hopes for, and why we do what we do.
Kathleen